Currently viewing the category: "Portfolio"
Many nonprofit technology projects have gone south near the finish line due to a departure of a key staff member. Today, I have a guest post up on Idealware's blog sharing good planning tips to make sure that your tech project can withstand a staff change. Bonus, if you're a Marvel Comics fan, this post takes inspiration from the Captain America story.
Check out the full post here: A Project Management Lesson from Captain America
Those who know me or follow me on Twitter know that I am a huge fan of soccer and the Seattle Sounders. I played a bit of extracurricular soccer as a child, but it wasn't until I found the supporter community here in Seattle that I became a passionate fan of "the beautiful game".
I've had soccer on my mind since watching the Sounders' fantastic home opener last weekend. In reading up a bit on the history of Major League Soccer (MLS) in the US, I found some insights that I would like to share with you on nonprofit communications strategies and getting started in social media.

Continue reading »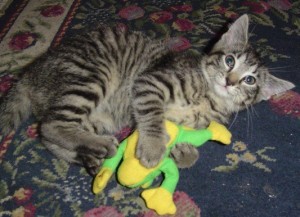 Eight years ago, I was looking into getting a kitten when a friend's cat had an unplanned pregnancy. A few months later, Anya came to live with me, and I've had a good, if rude and rambunctious, friend since.
Anya was a free kitten, but I have made many investments in her since she came into my home. Litter, food, toys, vet visits and vaccinations have all added up over the years, and I have also spent a great amount of my time playing with and caring for her. To put it gently, if I had I insisted on my free kitten remaining free, our relationship would failed at the outset.

Continue reading »