Free as in Kittens: 5 tips to better use donated technology
by
Elaina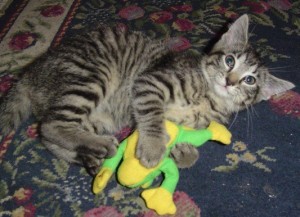 Eight years ago, I was looking into getting a kitten when a friend's cat had an unplanned pregnancy. A few months later, Anya came to live with me, and I've had a good, if rude and rambunctious, friend since.
Anya was a free kitten, but I have made many investments in her since she came into my home. Litter, food, toys, vet visits and vaccinations have all added up over the years, and I have also spent a great amount of my time playing with and caring for her. To put it gently, if I had I insisted on my free kitten remaining free, our relationship would failed at the outset.
Sometimes nonprofit technology is like my kitten…
I'm telling you about Anya to demonstrate the concept of "Free as in kittens", a phrase used to describe the need to invest both time and money in something, even though it came to you as free.
If you've worked with nonprofits for very long, you've likely come across situations where missing this concept caused technology projects to fail. Nonprofits often receive free or discounted software, but they also often hesitate to invest time or money into set-up, maintenance or staff training on these tools. This problem also causes neglect or contempt for donated technology – an example I've encountered is that staff may say the reason that they can't figure out this new tool isn't a lack of training or that the tool needs some more set-up, but it's because the free tool is just inferior.
When I hear about these situations, I imagine a hungry and lonely kitten who's owner won't invest in their "free" pet, but luckily, with good planning, you can set yourself up better for success and avoid those negative mentalities described above. Here are some tips to help you better deal with your technology "free kittens":
1. Planning is just as important for free tools as paid ones.
Check out my post with advice on planning for technology project, as those guidelines will help you with free projects too. Knowing your needs, your timeline, and your definition of success will be vital as you move ahead.
2. Choose tools because they are a good fit, not just because they are free.
Use the needs and requirements you identified while planning to make sure this donated tool will serve your nonprofit well. You may find that a paid tool will be a better value in the long run than a free tool that isn't a good match.
3. Accept that costs will arise around this tool – plan and budget for them.
Whether you work with a volunteer, a pro bono consultant or if staff are able to implement this tool, make sure to have a thorough chat about associated costs at the beginning of the project. In last month's post about Total Cost of Ownership, I identified many common long-term costs. Ignoring these costs won't make them go away, but budgeting for them can help you deal with them well.
4. Be sure to invest time, money or both in training.
The best, most advanced tool is little more than a paperweight if you don't know how to use it. Make sure that your team is trained well when you first get the tool, and also send new staff for training over time. Expecting staff to just figure it out usually leads to a frustrated and inefficient team that makes lots of errors. Of course, nonprofit budgets are always tight, but the cost of staff training often pales in comparison to lost efficiency and the cost of fixing mistakes.
5. Remember to value the time of your staff.
To save money, many nonprofits will decide to have staff handle tasks related to their free technology, such as having them migrate data into the new system rather than paying a consultant. But, if your staff member spends 20 hours on a task that could have been done by a consultant in 5, did you really save money? The same principle applies to the training question – if a staff member struggles for weeks or months to learn a program on their own, did you really save money over sending them to a one-day training?
I hope that, by following this advice, you will be more efficient in your use of technology and you will appreciate and love your next "free kitten".
Have you seen the negative mentalities around free technology at your nonprofit? How have you dealt with those?