Communications Lessons from Major League Soccer
by
Elaina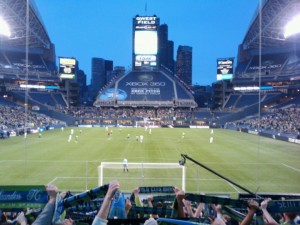 Those who know me or follow me on Twitter know that I am a huge fan of soccer and the Seattle Sounders. I played a bit of extracurricular soccer as a child, but it wasn't until I found the supporter community here in Seattle that I became a passionate fan of "the beautiful game".
I've had soccer on my mind since watching the Sounders' fantastic home opener last weekend. In reading up a bit on the history of Major League Soccer (MLS) in the US, I found some insights that I would like to share with you on nonprofit communications strategies and getting started in social media.
It all starts with a good strategy.
When playing soccer with your friends, you can have fun just running around and kicking the ball with a basic understanding of the rules. Winning on the professional level, however, requires a lot more time and thought. Coaches spend great deals of time choosing the best players to compliment their team in drafts and choosing the best eleven for the pitch for specific opponents each match.
Luckily, it's easier to build a winning communications strategy for your nonprofit than it is to build a winning MLS team. It takes time to build a strategy, but it's necessary to achieve true communications success. While many nonprofits work with consultants to build their strategy, this guide can help you get started building your own.
Play the long game.
The owners and investors of Major League Soccer would have loved to have legions of dedicated fans filling their stadiums in the opening years, but that's not what happened. The league suffered years of low attendance, losing $350 million before 2004, and MLS was in its second decade before they started building to the large crowds and achievements seen today.
It's easy to get discouraged by early setbacks when you first start implementing your communications plan, and many nonprofits have abandoned social media or other activities when they didn't start to see the results they hoped for right away. Set appropriate expectations with your organization while building your strategy, so that people aren't expecting dramatic results on day 2. It shouldn't take decades to build to success, but it can still take months or more. It takes a lot of strength to hold on during this period, but it's vital to keep the faith that your strategy will play out in the long run.
Work with your supporters.
I've gone to pro baseball and basketball games before and been bored, but soccer drew me in, largely due to the culture in the stands. At a soccer match, most fans don't just sit and watch the play, but instead they stand for the whole match and participate in chants and dances to support the team. Much of the reason for this atmosphere are the supporter groups, which receive a fair bit of credit for the increase in popularity of soccer over the last decade. While these groups operate independently of their teams, MLS meets with these groups to set the culture of the sport and to discuss strategies for league success.
It feels like common sense to say that nonprofits need to respect the relationship that they have with their supporters, but I don't see many that work with their supporters at the same level that MLS does with their groups. Your nonprofit likely sends newsletters and appeal letters to supporters, but how many conversations do you have? How often do you ask their opinions, even if just in a survey? Do you have conversations with your supporters on Twitter and Facebook, or are you just blasting out your news updates? How much do you know about why they support you?
Modern databases and social media give nonprofit fundraisers and communicators tools for learning about our supporters and engaging with them at levels we would have been unable to only a few years ago. Having a solid strategy will help you engage, as it will give you a guide for who you are trying to reach and for what purpose. Beyond that, you can learn from consultants, bloggers, and other nonprofits tactics that can help you engage the people who have chosen to like or follow you. A new book, 101 Social Media Tactics for Nonprofits, does a good job pulling many tips together along with case studies, and you can get a preview of the book in this slideshare developed by the authors.
Does your nonprofit engage with your supporters? Have you struggled to deal with expectations for immediate and dramatic success? Let's talk about it in the comments. Feel free to throw in a shout-out for your favorite MLS (or other soccer) team in the comments too!