Moving Week
by
Elaina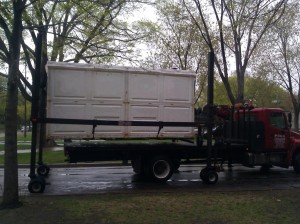 This last week, I've had the joy of moving. I don't mean to be sarcastic, I've been pretty excited to reach this stage of the process. Two weeks ago, we sealed up the shipping container filled with our posessions, and we started driving out of Seattle towards Minneapolis. After a week of crashing with friends and then on an air mattress at our new apartment, we were pretty stoked to get our shipping container back and have all of our things again.
I feel like having some time periodically living on just the essentials is good for us. Similar to going camping, it is good to remember what it is to go with less and to help us remember what is truly important.
It was also lovely to largely take a break from the web. Having limited resources, connections, and downtime gave me a break that I didn't know that I really needed. Since sitting in front of the computer daily doesn't seem like true work, it's easy to over-do it, and I definitely have so far this year.
No worries, I'm not giving up on the web for good. I'll be getting back to blogging and tweeting slowly through the rest of this week as I finish assembling the new apartment.