Working with Technical Volunteers
by
Elaina
This was originally posted on NPowering, the blog of NPower Seattle on January 13, 2010.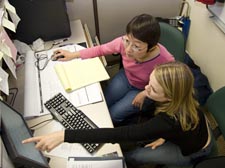 While volunteers can be a great resource for maintaining or updating technology at nonprofits, they also can present unique challenges for nonprofit staff. We usually spend some time whenever we are helping a nonprofit set up a volunteer project to make sure that it is set up in a way attractive for modern volunteers, but that is only the beginning of making sure that the relationship works well.
Our colleagues at TechSoup recently updated their great manual for helping nonprofits use volunteers effectively on technology related projects. This is a great resource for anyone considering recruiting tech volunteers.
I wrote up a tip sheet on this theme a while back that may also be helpful for nonprofits considering volunteers for a tech project. The NPower tip sheet is something that I wrote up as I first started coordinating our volunteer program here, and is advice based around what I was seeing from the projects posted to our site.
If  you are looking to recruit a tech volunteer, consider NPower's Volunteer Matching Service. Open to all members, this program allows nonprofits to post tech projects to our website to be reviewed by our volunteers. We do not have any opportunities currently posted, so your project will have their undivided attention. Feel free to email me at [email protected] if you would like to talk about the program.