Email Marketing Tools for Nonprofits
by
Elaina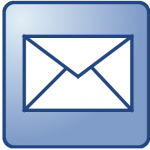 Despite many tools to help nonprofits use email more effectively, many are still sending out their mass emails by putting all of their recipients in the bcc line in Outlook. It's a very common practice, but it can have some severe consequences for your organization. Many nonprofits use this tactic thinking that it's the only low-cost way to send out mass emails, but, fortunately, there are tools out there that make it very easy and affordable to send out mass emails in a professional manner.
Why should I use an email marketing tool?
It can seem easy and frugal to send out mass emails using the BCC line, but here are some big reasons to move away from that practice:
Spammers use the bcc trick too, and you don't want to get mixed up with them.
Email services like Google use computers to sort out legitimate emails from spam. These services are not perfect, and we've probably all experienced finding emails getting in the spam folder that shouldn't be there. Putting large numbers of people in the bcc field will make your messages much more likely to end up in the junk folder, and it can get the email shut off for your entire organization. Scary, right? If you use spammer tactics often, you will end up on global spam blacklists, which means that none of your emails will go through properly. This can be fixed, but it takes time to do so.
It will make your life much easier.
Email marketing tools have lots of features that make your communications easier to run. First, they will manage your list for you – no more copying into the bcc field. They will handle the unsubscription requests and they often provide tools to add subscription boxes to your website. Second, they give you tools to make it easy to add images to your email to give it a professional look. They also enforce compliance with laws relating to spam, and work with email services to prevent your messages from getting in the junk folder.
They give you statistics on your recipients behavior to help you create better campaigns.
With each email you send, you will get statistics back about how many recipients opened your message, clicked on links, whose email bounced and who unsubscribed. This gives you great information to assess the effectiveness of your campaigns and the impact of your efforts.
When should I use one of these services?
You should use these every time you are sending to a significant list of people. Since different email hosts have different rules on spam, there isn't a internet-wide consensus on the number of recipients that can be allowed in one email and when to go to email marketing tools. My rule to share with nonprofits is that the largest group that you should ever send just out of Outlook is an email to your Board of Directors, or around a dozen maximum.
But aren't those tools expensive?
There are lots of email marketing tools out there on the market, and their pricing varies. I have a couple of favorites that can potentially be free for nonprofit organizations:
Vertical Response – For years, Vertical Response has been popular with nonprofits due to their excellent integration with the Salesforce CRM platform. Starting in 2009, they started giving 10,000 emails each month to nonprofits for free, so most nonprofits can use their tools completely for free.
MailChimp – MailChimp is another good tool for nonprofits. Their pricing model is a bit different – if your list is 2,000 or less you can use the tool for free for up to 6 messages to that group each month. They have a few features lacking on Vertical Response – easier to save templates and it manages multiple lists better – making it another good, low-cost option.
There are also lots of other good email tools out there with tools and features that will matter more or less to different nonprofits. My colleagues at Groundwire recently released an updated version of their email marketing tool comparison report, which examines many of the most popular tools for nonprofits.