Jumping into Pinterest
by
Elaina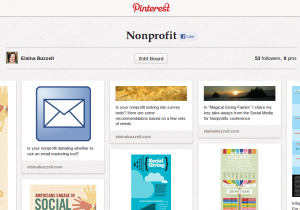 While Pinterest has been around for a couple of years, I first heard of it while talking to an old friend over the holidays. She was very excited about the craft ideas she was finding on the site, and sent me an invite to check it out. Then a couple of weeks ago, as Pinterest started getting some major buzz, I went back to that invite and started checking it out.
What is it?
At its core, is that Pinterest is a site where users save interesting things they find on the internet to "pinboards", and what you save is shared with your friends. The site is very visual, which initially made it great for sharing crafts, clothing, and recipes.
It's perhaps that original popular content that caused the site to have a heavily female user-base, a pretty unique fact for a relatively new web service. Their demographics make it a very attractive place to start a new communications campaign, and many businesses as well as nonprofits are jumping in.
Should I jump in?
That, of course, depends on your communications goals, and what you're looking to gain. While there are can be many reasons to hold off from jumping in on a new tool, here are some key selling points for joining up now:
It has the potential to drive significant traffic to your site. In my experiment, I "pinned" several of my blog posts to see the affect on my web traffic. Even though my content isn't all that exciting to many within Pinterest's core demographics, I still saw a very significant uptick, and I'm not the only one seeing this increase.

It's a great place to showcase visual content. Many nonprofits have found success on Pinterest by sharing pictures of clients, successes, volunteers, and even craft ideas. If you aren't already putting pictures with all of your blog posts (and you should), make sure, as Pinterest requires a picture for someone to pin it.
Good tool for curating content. I like Beth Kanter's definition of content curation as "the process of sorting through the vast amounts of content on the web and presenting it in a meaningful and organized way around a specific theme." Pinterest is good for helping you keep track of the cool things that you find on the web, and organize them for your purposes. The ideas for boards are limitless, but some ideas to get you started are boards to hold inspiration for future blog topics, books relevant to your mission and/or audience, reports or new stories on your organization, I created boards for social media information that I want to save, others have created "blog topics" boards, many share good books on their industry and interest, and the ideas for new boards are limitless. As content curation is something that is good to do anyway, it works well to do it in a way that could help you connect to constituents, like Pinterest.
So, as much as it's a new tool, I encourage you to jump in and start exploring. Check me out on Pinterest as you're playing around too. Do you have questions about Pinterest or how you can use it for your nonprofit? Leave questions in the comments. Feel free to leave a link to your Pinterest account in the comments as well so we can connect!