Assess Your Twitter activities with SocialBro
by
Elaina

When I started working in nonprofit communications, I quickly became a complete nerd for the statistics and data related to my social media and web activities. As my time (and that of other nonprofit staff) is always scarce and precious, I always wanted to be sure that my website updates, status changes, and tweets weren't just floating away in the wind – I wanted to be sure that my activities were having a direct impact for our organization.
I have spent hours pouring over Google Analytics reports and my organization's Facebook Page Insights, but I haven't been satisfied by the different tools available to look into my Twitter activities. While Klout gives me a quick score of my impact, and Hootsuite gives me simple reports of how many people are clicking on my shared links, I have wanted to see much more. Once I came across SocialBro, I instantly started drooling over it's Twitter analysis capabilities. Beyond just giving a nerd like me more data to pour over, these tools will be great assets to any nonprofit as they strive to optimize the limited time they have to devote to social media.
At this time, the tool is completely free for you to use, but their Terms and Conditions say that they may charge for some features down the road. Sign-up is easy, and they give you options for how you would like to use the tool. I imagine that most will choose to download the desktop client, but I choose to use it as an app within the Google Chrome browser, which has been working great so far.
You can get started with SocialBro right away by looking at the report snapshots that are displayed on their dashboard. You can click on any of these to learn more about, for instance, your newest friends (SocialBro's term for those you follow) and followers, those who have unfollowed you recently, the ratio of friends to followers among your community (their term for your friends and followers together), and the terms used most in your friends' and followers' tweets. By clicking on the wrench icon in the top menu, you have access to some other specialized reports, and a good place to get started is with "Insights". That report gives you information on your community including which time zones are most popular among your followers, where they live, and information like their ratio of friends to followers.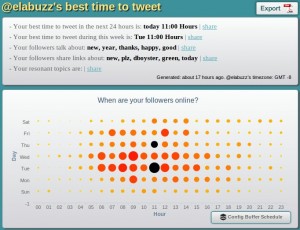 My favorite report so far is one that takes a little time for SocialBro to compile for you. About an hour and a half after I got started, they emailed me to say that my "Best time to tweet" report was now ready. They analyze your followers (the top 100 in the current, free version) to learn the times they are most likely to be online, most active, and most likely to retweet. They also provide charts showing what your followers are talking about the most and most likely to share links about. I am definitely using this information to guide when I tweet my most important information – new blog posts at 11am on Tuesdays, for instance. I recommend that you refresh this report regularly – they allow one report each week – as these stats are likely to vary a bit over time.
I have only outlined the features that excited me the most this week, and there is enough here to keep a nerd like me occupied for weeks. I definitely recommend that anyone using Twitter check out this free tool, especially nonprofits as this information will be invaluable when planning how best to use typically scarce communications resources. Do you have other analytics tools that have proven valuable in your social media strategies? How have tools like this helped you in creating your social media strategy?
This is an unpaid and unsolicited review.